Here's a spelling and vocabulary solution many homeschoolers have adopted... and it comes at no cost!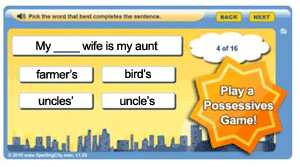 Look at Vocabulary SpellingCity, a website that you will probably start using immediately. It is used by many homeschool families to support their existing spelling and vocabulary curricula. There are over 40,000 words and many lists are already posted on the site, such as the Sequential Spelling Program, Dolch Sight Words, Contractions, Geography Terms, and even Literature-based Lists. Many parents like that they can enter their own words and create their own lists!
In a very short time, Vocabulary SpellingCity has become a favorite with hundreds of thousands of families. Numerous awards and endorsements include the coveted ClickSchooling and Parents' Choice awards. Plus, Vocabulary SpellingCity made the Homeschool.com Top 100 Educational Websites list for the past 3 years in a row. So, what makes this site so popular?




The cost - what's not to like about nothing? While there is a paid Premium Membership, most people use the site without paying.

The ease and flexibility of use - you can save your own word lists or use their teaching resources.

The human voice - you'll hear spoken words and sentences (great for pronunciation and word recognition).

The sentences & definitions - each word is used in a contextual sentence to reinforce meaning and spelling. There are over 50,000 sentences.

The variety - there are 15 learning games that can be used for alphabetical order practice, spelling practice, vocabulary practice, handwriting practice, sentence & paragraph writing practice, even grammar practice (parts of speech).
Take a minute to click through and visit Vocabulary SpellingCity -- you will quickly see how perfectly it ties in with your homeschool curriculum and may well find that is the vocabulary and spelling solution you have been waiting for!